FROM R. K.'S CORNER
In June last year, I traveled to New York City for a week to sit by the bed of a dear, longstanding friend, Goldie Rotenberg, who was struggling through the last stages of cancer. Sadly, she died a few days after I left.
While in the City, I spent a day with Jeanette Felix, Founder of Children in Need Haitian Project (CNHP) and her co-Director, Sharon Cushing. They are doing a vital work in the mountain region South-East of Port-au-Prince, providing a Bible-based excellent education for the local community's children grades K through 8. They serve in many other practical ways to help the people rise out of poverty and become healthy, productive families, utilizing the local resources available. The Bridge has at times helped sponsor the school.
In October, 2016, Hurricane Matthew devastated Haiti. It destroyed the mountain farmers' harvest, and ruined many of their homes. Our donors gave generously both then and in 2017 toward relief aid for the island, which we have divided between several partnering ministries serving in Haiti. Of the $2500 given through CNHP, $1000 helped rebuild the home of one of the school's workers, and another $1000 toward helping the farmers restocking their seed bank for the planting of crops for the upcoming season's harvest.  See former Bridge posts on this:
http://www.bridgeinternational.org/2016/10/
Shortly thereafter, Jeanette called me. The mountain farmers had pulled together and were in the process of solving their problems without help from the outside. Would I mind that the Bridge funds given to the mountain farmers through CNHP be directed to another ministry, Beraca Baptist Church, an American-Haitian church in Brooklyn, NY? They have for a number of years successfully been engaged in serving the people of Haiti (Beraca means "Blessing"). With the Bible in one hand, and hammer and plow in the other, they are empowering local people in several communities, like the city of Jeremie, located on the tip of the peninsula to the West of Port-au-Prince. Hurricane Matthew had done landfall there and literally obliterated the city and large swaths of the surrounding countryside. Without clean water, food, and shelter, the people were desperate. Beraca received the funds, due to Jeanette and Sharon's unselfish generosity in helping those in worse condition than their mountain people. It was used toward the Reforestation Program in Haiti—see report below.
The day I visited CNHP, Sharon had set up a meeting with the leaders at Beraca Church. We drove to Brooklyn where we met the Senior Pastor, Mullery Jean-Pierre and two of his co-pastors. There was an immediate rapport between us, as we found we shared like vision and practical approach to serving the Gospel in the nations— it was like meeting family members we had just discovered existed! I gave them another $3000 from one of our generous donors to be used toward their ministry toward single mothers and their children left destitute after the hurricane—see report. In this issue, I present Beraca Baptist Church and their extraordinary outreaches of love to their local community and to Haiti.
VISITING BERACA BAPTIST CHURCH IN BROOKLYN, NY
"What a stunning sculpture!" I exclaimed, "what a vivid symbol of a thirsty man lifting his face toward God and drinking from the Living Water!" Pastor Jean-Pierre smiled, " That is not exactly the symbolism of this carving", he explained. During a meeting with him, two of his co-pastors, and Sharon from CNHP who had introduced us, I had been captivated by this expressive wooden carving sitting on the cabinet in his office, not knowing it was a replica of the original statue located in Port-au-Prince in Haiti, which represents the call to rebellion against slavery— see above. "I have never heard this interpretation before. You actually see the Haitian people through the eyes of God's heart—I believe this  belongs to you, R.K. " – and with those words, he gave the mini-replica to me. I am honored to have it displayed in our living room as a reminder of the physical and spiritual thirst of those we serve among the peoples of color in the nations.
I believe this gesture of generosity characterizes Pastor Jean-Pierre's heart which is permeated by Jesus' love and care for people. He is a Haitian in America who has not forgotten the cry of his own people in Haiti, nor in his city in New York, as he and his team are successfully accomplishing extraordinary things for God in both places!
PASTOR MULLERY JEAN-PIERRE AND HIS TEAM REACHING OUT WITH FAITH, LOVE, AND  HOPE TO THEIR COMMUNITY AND TO HAITI 
Mullery Jean-Pierre, Senior Pastor of Beraca Baptist Church in Brooklyn, NY was born in Haiti to a Haitian father and a Dominican mother. He and his Jamaican wife, Cacheta have six children and seven grandchildren.
Having a Puerto Rican daughter-in-law, an African American son-in-law and a Trinidadian sister-in-law, Mullery feels right at home in leading a multicultural congregation. Under his leadership the church has grown from 80 members to 1200 worshippers; although a predominantly Haitian/Haitian-American church, Beraca is home to 17 other different nationalities.
When Mullery was called out of corporate America, he left his management position at a Wall Street firm and never looked back. Those years prepared him for the many administrative leadership positions to which God has called him to serve.
As Mullery's desire to reach the community grew, He founded the Beraca Community Development Corporation (BCDC). With his church family, the services to the local community include:
Youth development programs.
A food pantry.
Serving seniors at a local Seniors Adult day care center.
Partnering with their local high school to provide employment and mentoring for the students.
Partnering with the Districts Attorney's office's Alternative Sentencing Program, providing alternative forms of rehabilitation to those who've committed misdemeanor or petty crimes.
After the January 12, 2010 7.0 magnitude earthquake in Haiti, Mullery and his team extended BCDC from NY to Haiti, where they currently serve the cities of Leogane, Cabaret, Jeremie and Cape Haitian with the outreaches:
Training and mentoring Pastors and leaders. They are currently training 1700 leaders.
Creating and sustaining approximately 400 jobs through their motorcycle taxis, micro-lending and mini bus services.
Conducting mobile medical clinics, bringing healthcare to thousands of underserved Haitians through the local churches in their communities.
Training and equipping teachers and principals, providing a good education to their students by the use of certified U.S. Haitian-American teachers.
Planting churches that are the hubs for spiritual and socio-economic health and development in the Haitian communities.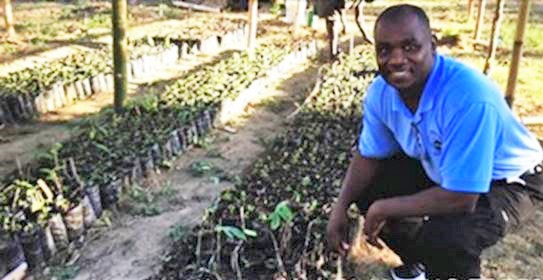 The event of Hurricane Matthew not only devastated the region, but also caused food shortages throughout the nation. BCDC began networking with some churches in the area to re-plant what the hurricane destroyed, which now includes hundreds of churches. The Reforestation Project focuses on replanting trees in the denuded countryside to help avoid the continued massive erosion of cultivated land in the region. It is known as the breadbasket of the country, as a good portion of the crops that feed Haiti are grown there.
Teams from Beraca keep traveling to Haiti with needy material, tools, and supplies, and work in partnership with Haitian believers in rebuilding church buildings, community centers, and homes that have been destroyed by the hurricane.
During our meeting, Mullery told us about a ministry which began during one of his trips to Haiti with two of his co-pastors overseeing and participating in various restoration projects. While walking in the streets, women approached and propositioned them. They were told by the local people that literally thousands of women with children have been left destitute after the disaster, either because they are single mothers, or their husbands have left them to go elsewhere to seek for jobs, but then never to return home.
With the community in shambles, no available jobs, food supply or clean water, the women have been forced into the streets to sell the only commodity they have left—their own bodies—to provide just morsels for their family to fend off starvation.
The pastors accepted their offer and paid for two hours of service. However, instead of taking advantage of these desperate women, without condemning them, they gave them food and shared the Gospel—the good news, with emphasis on how much God loves them. They were then offered a basic course in reading and writing. The women willing and committed to change, were then offered training in an income-producing cottage industry. This takes them off the street, regains their dignity and makes them able to provide for themselves and their children. This unique street ministry continues as an outreach by local believers, whereby hundreds of women have experienced the transforming power of the Gospel which has given them a new hope and a future and brought them into a caring community of believers!
The leaders and members of the church family at Beraca live up to its name — BLESSING! They are indeed a blessing to those who encounter God's love in action through them!
"The world has yet to see what God can do with a man fully consecrated to Him." D. l. Moody