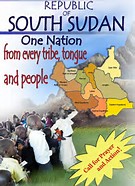 When South Sudan gained independence from Sudan proper on July 9, 2011, a forty year old armed conflict which had raged between the Muslim-backed Arab government in Northern Sudan, and the predominantly Christian Africans in Southern Sudan, ended. During this war, approx. 2 million people had been killed and 5 million displaced as refugees into the neighboring countries.
To establish their distinct national identity different from their Muslim neighbor to the North, the new country of South Sudan approved a Constitution built on the Judeo-Christian world view, providing a buffer against the advance of Islam toward the interior of Africa. Full of joyous anticipation and hope for the future of their families and their new nation, the South Sudanese in diaspora returned home in droves, thanking the Almighty God for their deliverance.
South Sudan is a country rich in natural resources: oil, gold, rare precious metals, forests, plenty of sunshine, fertile soil, and an abundance of water, i.e. the Nile – resources sought after by multinational companies and governments in the industrialized world.
The war had ravaged everything. The country was void of even the most elementary infrastructure – paved roads, municipal water, sewage, electricity, basic education, or healthcare. Rebuilding the nation proved to be very difficult and laborious, indeed.
The government was not prepared to handle the momentous task by good warriors becoming poor governors who have been open to bribes and corruption. In December 2013, an internal civil war (which also is a proxy war between superpowers competing over the country's natural resources) erupted when President Kiir accused his former Deputy, Machar, of planning a coup.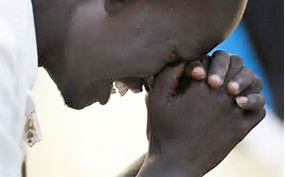 It set off a cycle of retaliatory killings which have split the poverty-stricken country along ethnic lines, causing hundreds of thousands to flee. A fragile peace agreement was finally established, for again to be broken in July 2016. Last year alone, some 489,000 South Sudanese refugees fled to Uganda. The refugee settlement Bidibidi in northern Uganda, opened less than six months ago, is already one of the world's largest refugee camps. It currently houses over 270,000 South Sudanese.
The country is in crisis – a combination of famine, conflict and disease is threatening the lives of millions. Since the war restarted in 2013 there have been recurring violence, with killings, rapes, abductions, displacements, children recruited into armed forces; schools and hospitals attacked and destroyed, and multiple outbreaks of disease including cholera. And now, famine is affecting thousands!
The leaders finally acknowledged their need to seek God for repentance and forgiveness, and intercede for the Lord's healing of their land. On March 10, President Kiir called the people to an official National Day of Prayer!
ON MARCH 11, THE SUDAN TRIBUNE REPORTED: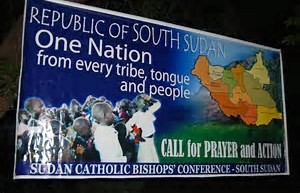 South Sudan's Catholic Archbishop Paulino Lokudu Loro presided over Friday's National Day of Prayer. He declared the government must choose between peace, unity, reconciliation and justice over rapes, killings and arbitrary arrests. He urged President Salva Kiir to "go pray alone in a room for peace in the country".
The cleric further warned the President, stressing that torture, corruption, raping, arbitrary arrests and tribalism would continue if he later misuses his prayer.
"If this prayer is sincere, many things should happen in this country; peace, justice, love genuine dialogue and unity should happen after this prayer. Good governance, security, good economy, provision of service, we can expect then to happen after this prayer, if the prayer is genuine," said the Bishop in a mixture of English and Arabic.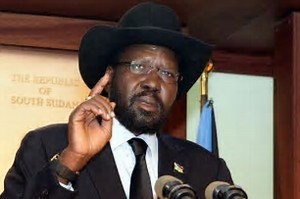 The South Sudanese President, Kiir called delivered his own prayer before the crowd, asking for divine forgiveness.
"I pray not for condemnation but for forgiveness. I give over my heart and body for Your blessing. Guide me Lord to become who you want me to be. Give me wisdom not for my own merit but for your loving kindness,'' said the President in a prepared prayer that he read in front of thousands of his supporters at John Garang Mausoleum in the capital, Juba.
President Kiir, who had never prayed in public since assuming chairmanship of South Sudan's ruling party (SPLM), called for "the most merciful God" to redirect his deeds.
"Through my shortcomings, I have sinned against You in words and deeds for what I have done," said the President, without mentioning any specific crimes he committed as a leader.
The country's First Vice President, Taban Deng Gai and Vice President, James Wani Igga knelt as the South Sudanese President delivered his prayer.
"That your prayer should not be in vain, I hope you, President Kiir, called us out in this heat because you want peace. After this prayer, is the government going to choose evil?" asked Bishop Lokudu. Pentecostal Church Bishop, Isaiah Majok Dau called for "humanity in our hearts" during the prayer.
"If you are repenting today and you used to kill people, don't kill anymore, regardless of who you are. If you are repenting today and you continue to talk badly about other tribes, cease and talk about South Sudan," added Bishop Dau.                                     ©The Sudan Tribune
WILLIAM LEVI WITH HIS WIFE, HANNAH AND THEIR SIX CHILDREN ARE PRESENTLY IN SOUTH SUDAN AT THEIR OPERATIONS NEHEMIAH MISSION HEQDQUARTERS IN BORONGOLE  TO WORK AND CONDUCT A DAY OF NATIONAL PRAYER.  HE WRITES: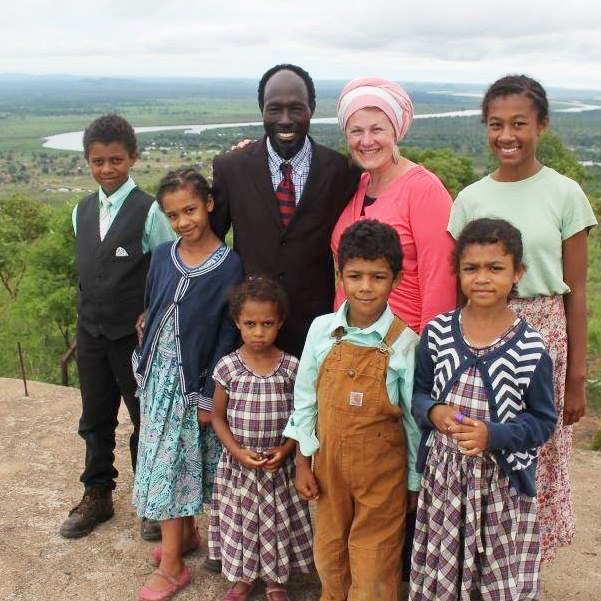 "In  light of the current Crisis in South Sudan, I'm  counting on your support and networking  for a time of  National Prayer, Repentance and Forgiveness in Juba, South Sudan, March 26th-27th, 2017. This event will resonate with the National Peace and Reconciliation Initiative proposed by President Kiir.
This effort must precede our earnest desire to see people return from exile to their homes, which they abandoned in July 2016 in fear of their lives. We must dedicate the entire country to God, from the local to the national level. I call on like-minded church leaders  across the country and the camps to come together for this event.
South Sudan remains a spiritually  strategic country, blocking the spread of the Islamic Caliphate into the interior of Africa. The ongoing conflict within creates porous borders and opens the door for Islamic terrorists to invade from any direction. The  Islamic agenda is not done with South Sudan. They rejoice over our internal division.
  We must pray  for  those  serving in the government, military, and police; for civilians driven into exile; for armed rebels still operating inside the country. 
We  must recognize that our warfare is not against flesh or blood. We are not warring against specific persons or tribes, government, or rebels. We must learn to love our neighbors as ourselves, and call every soul to repentance and faith in Christ without showing partiality.  Tribalism is a national sin that must be renounced.
  It is only through the preaching of the Gospel and biblical reconciliation that South Sudan will see lasting peace.
Meanwhile, we have understood the plight of our people in exile and we will reach out to them with the same love of God we exercise upon those who are inside the country without discrimination. The Bible does not lie. Those who put their trust in the Lord will not be put to shame.
For us, the national dialogue for peace and reconciliation has already begun as The Bible instructs us, 'First of all, then, I urge that petitions, prayers, intercessions, and thanksgiving be offered on behalf of all men..' See 2 Timothy 2:2."
INTERCESSION – MATTHEW DENG DUT IN JUBA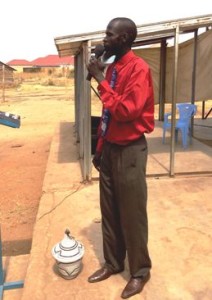 I met Matthew Deng Dut for the first time in 2008 in Tel Aviv, Israel. He was among the 1100 South Sudanese who had fled atrocities in Sudan and Egypt to find refuge in Israel. I visited his church, Elohim Shalom Ministry, which he had established among his fellow refugees there.
His preaching was focused around evangelism, prayer, and reconciliation. He told me with great enthusiasm about the hope he had for his nation—that one day, his people would be gathered back in their homeland, where they would become a free nation under God. Furthermore, that he had been called to be a voice and a vehicle of peace and reconciliation between man and God and the warring ethnic groups among his people.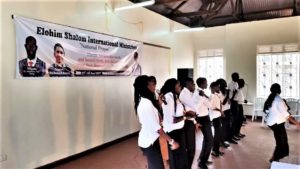 After returning to South Sudan in 2012, Matthew and his fellowship settled in the outskirts of Juba where he continues to pastor his flock. He has survived three severe malaria attacks, was robbed of all his possessions, and keeps on serving his people through a four year brutal, internal civil war, during which many of his church members have fled. In spite of the insurmountable problems he and his people face daily, Matthew refuses to give up, he has remained faithful to his call to seek reconciliation, and stands on Jesus' promise in Matthew 5:9, "Blessed are the Peacemakers, for they shall be called Children of God." His message is clear: Lasting peace only comes through The Prince of Peace!
In February, Matthew was invited as the main speaker at a Peace and Reconciliation Conference in the South Sudanese refugee community in Kampala, Uganda. Many were saved and encouraged in their faith!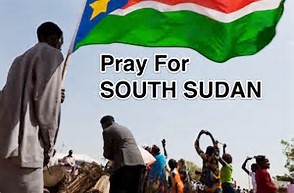 In May, Matthew and his fellowship, Elohim Shalom International Ministries, will also gather city– and region wide churches and church leaders and government officials to a Day of Prayer, Repentance, and Reconciliation on behalf od their country, government, and people. WOULD YOU PRAY AND HELP HIM FINANCE THIS EVENT?
For more background information on the people and ministries we serve in South Sudan, please click on the following link:
http://www.bridgeinternational.org/category/south-sudan/