by James Harrington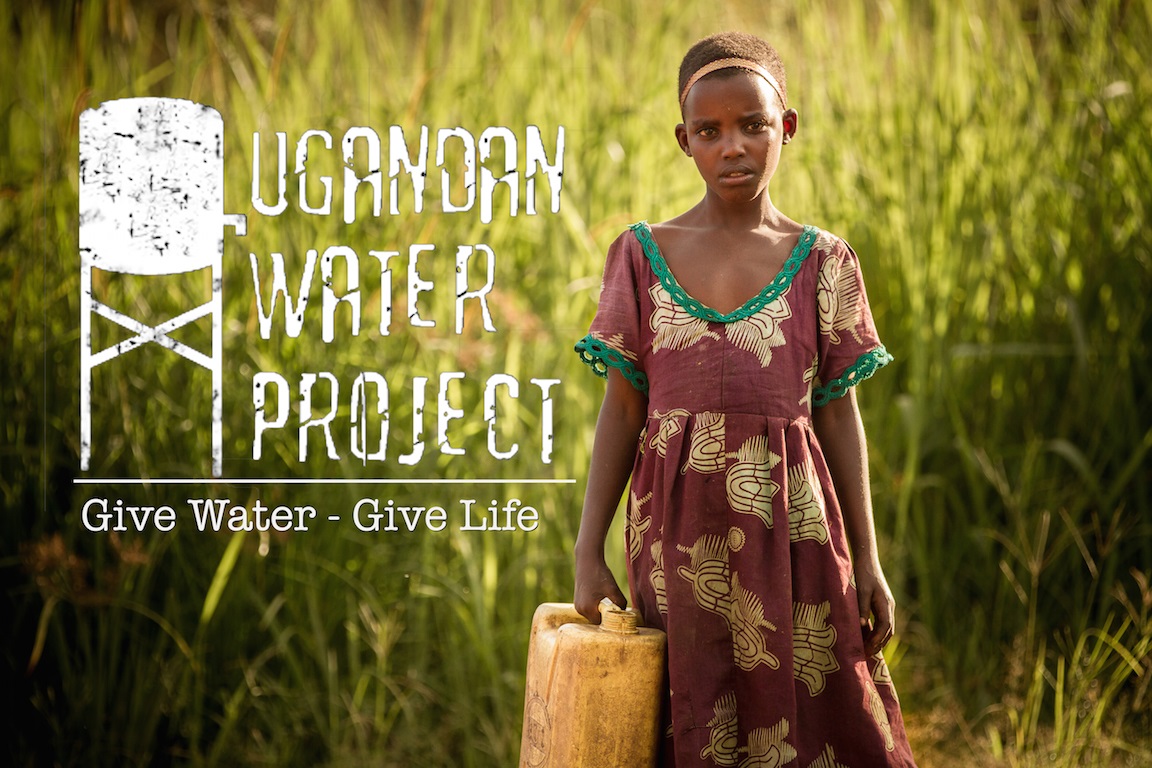 Roots
The sounds of laughing, yard games, and the lively buzz of backyard barbecue conversation greeted me from across the street. It was Memorial Day 2007, and I was returning home from helping a friend with a house project. We had a great relationship with our neighbors so the festivities in their yard meant I was welcome to come grab a plate and enjoy the gathering.
Upon filling my plate, I was pleasantly surprised to be introduced to a gentleman from Uganda, a pastor and schoolteacher, who had come for a conference. We sat and talked about our lives – the similarities and differences – and I was struck that this man said the biggest challenge he faced in church and the classroom was that those he was trying to teach were so often without clean water and that the daily struggle for safe drinking water was common in the lives of most Ugandans.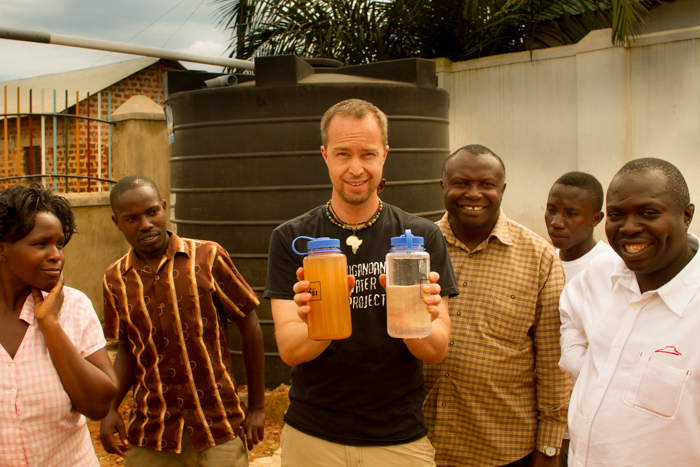 That first encounter left me productively disturbed. In August of 2008, after a year of learning, planning, and fundraising – five friends and I traveled to Uganda and saw the first two Rainwater Collection Systems installed on rural churches in Uganda, marking the beginning of the Ugandan Water Project. Since those first projects, we have continued to grow. The Ugandan Water Project now works in over 350 communities and has brought clean water to more than 155,000 people.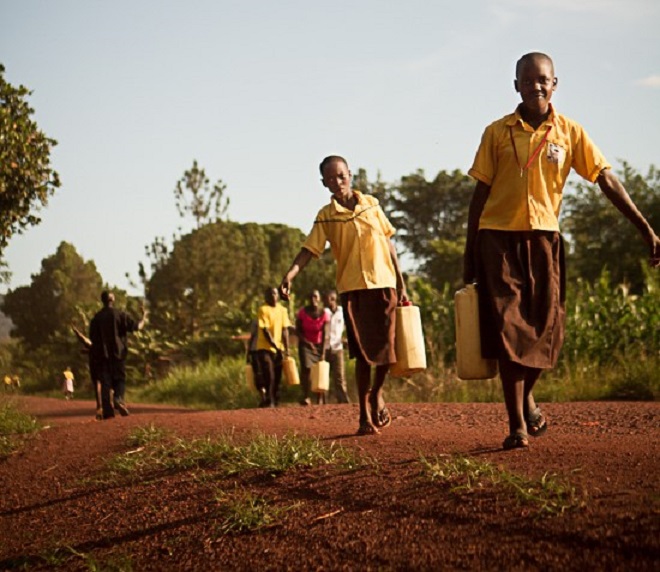 UWP employs a staff of 13 in Uganda (mostly Ugandan nationals) where we implement 3 primary solutions: Rainwater Collection Systems, Borehole Well Rehabilitation, and Water Filter Distribution. Sanitation and hygiene projects are beginning to take a larger role as well. Our projects focus on strengthening communities by resourcing schools, churches, clinics, and other foundational centers of local life.
Beyond the water resources we provide, UWP is a vehicle for bringing a tangible expression of the love of Christ to the communities we serve in Africa, while simultaneously creating an encounter with Jesus for all who engage in UWP's programs. Matthew 25 tells the story of the sheep and the goats; Jesus reveals that when we serve those suffering in poverty – we serve Him personally. Applying that principle means that when UWP partners with families, churches, businesses, public schools, college groups, etc. – and support their efforts to learn about the water crisis in Uganda and raise funds for projects, there is an encounter with Jesus woven into that experience simply through the act of serving the needs of the poor.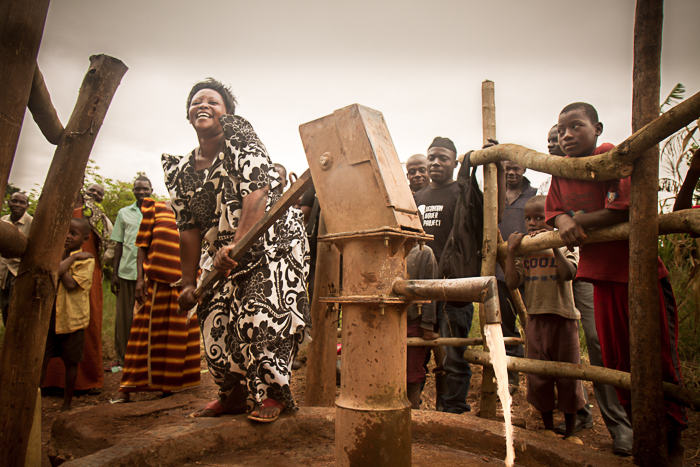 The past ten years has been harder than I would have ever guessed, but from where we stand now, I believe the future impact we will have, is greater than we can imagine. Our vision rings louder and resonates deeper than when we first began:
"The Ugandan Water Project sees Uganda free from the burden of water-borne disease where water, sanitation, and hygiene resources empower communities to transform themselves out of poverty and live the lives they were created for."
Diving Deep into Schools and Campuses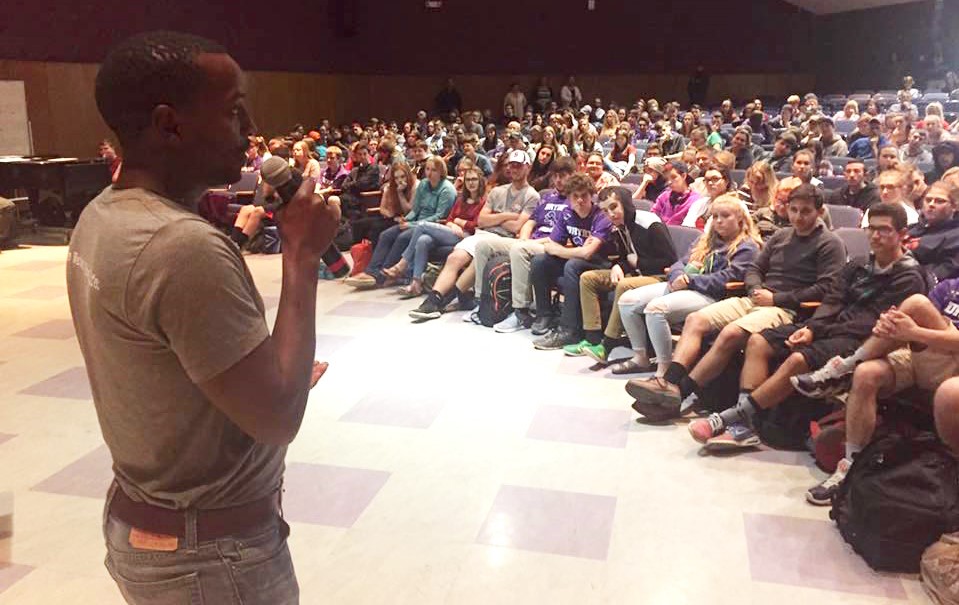 One of the great opportunities the Ugandan Water Project saw from the start, was the opportunity to partner with schools and colleges. Anchored to the cause of clean water for Ugandans, and driven by the values at the center of our Christian faith – we knew that service, self-sacrifice, compassion and other themes would resonate even in environments where incorporated Christianity isn't welcome.
UWP has designed a robust program for working with public schools. Communications Director, Megan Busch, a former high school teacher, worked with UWP volunteers in the education field to write curriculum that corresponds to various subjects and grade levels. UWP's founder, James Harrington, travels to schools across the US to help teachers and students launch 2-4 week campaigns that challenge students to change the world through raising funds to bring clean water to a specific school in Uganda. The results are amazing; just in recent months: a charter school in Arlington, TX raised $5,000; middle schoolers at the McDonogh School in Baltimore raised $8,000; and the 7th grade at Clarence Middle School near Buffalo, NY raised $23,000! These numbers are not the whole story – these results were the overflow of a message that we all have a purpose and destiny to impact this world and our efforts should be built around the only thing that actually works – the combination of Love and Self-Sacrifice.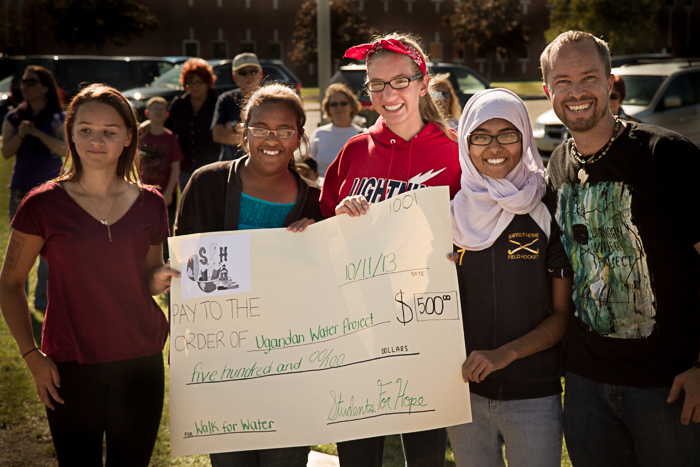 College campuses have been another arena for amazing impact.  Water:Now is an event built on the assumption that God has designed us with far more capacity and power than we realize and that if a person could catch a glimpse of their real God-given-potential it could change their life.  UWP partners with Christian student groups to host an evening on campus where clubs, organizations, teams, Greek life, and the general student body are invited to come learn about UWP and change the world.  When students arrive, they are invited to participate in the audacious challenge to fund a water project for a specific school in Uganda ($3,000-$5,000) . . . in 1 hour.  The result is something between a flash mob and a telethon.  As the timer counts down, students reach out through various platforms to ask friends and family to make right-now-donations.  It often comes down to the very last seconds, but to-date, the goal has been met, every time! The final challenge comes amidst celebration – reminding students that they have 24 hours in every day and now that they have seen what they could do with just one – dream new dreams and take bold action to change this world for the better.
The UWP's staff believe that the secret ingredient that helps them connect effectively with the next generation is their willingness to take huge risks on the conviction that young people are created to change the world right now and they are desperate for a chance to prove it together.
Good Intentions Ain't Good Enough
The Ugandan Water Project operates both as a Christ-inspired ministry and as 501(c)-3 international development organization. From the beginning, UWP's leadership knew that in order to have a platform and influence in the global industry of development work they would have to be ruthlessly committed to excellent, professional water projects.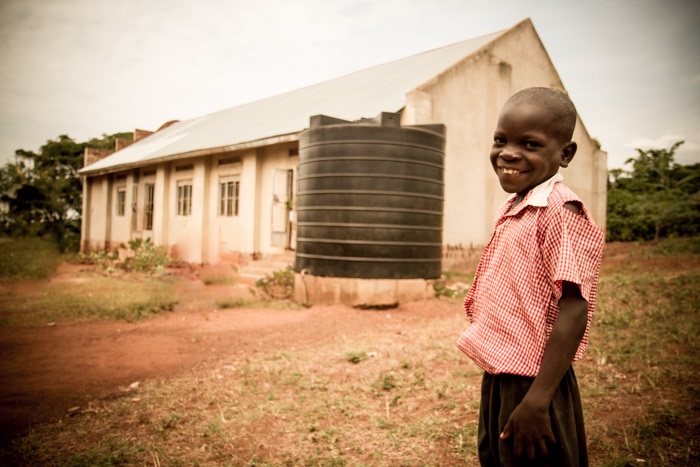 One example of this is the evolution of UWP's Rainwater Collection Systems. These projects began as simple plastic tanks fed by gutters from community buildings. Declaring the slogan, "Always Learning!" the staff and volunteers began step by step isolating and improving each part of the process – solving problems, updating materials, investing in training, purchasing tools, and above all, learning from others around the world. The result is that today's Rainwater Collection Systems are recognized as the best available version in Uganda.
Another area of professional growth was Monitoring & Evaluation. UWP was not satisfied with simply giving a water resource to a community and hoping for the best. The organization realized their responsibility to prove that their projects would produce real change. "Ultimately, we aren't in the water business . . . we're in the transformation business" says UWP's founder, James Harrington, "and we can't prove transformation unless we measure what we do over time."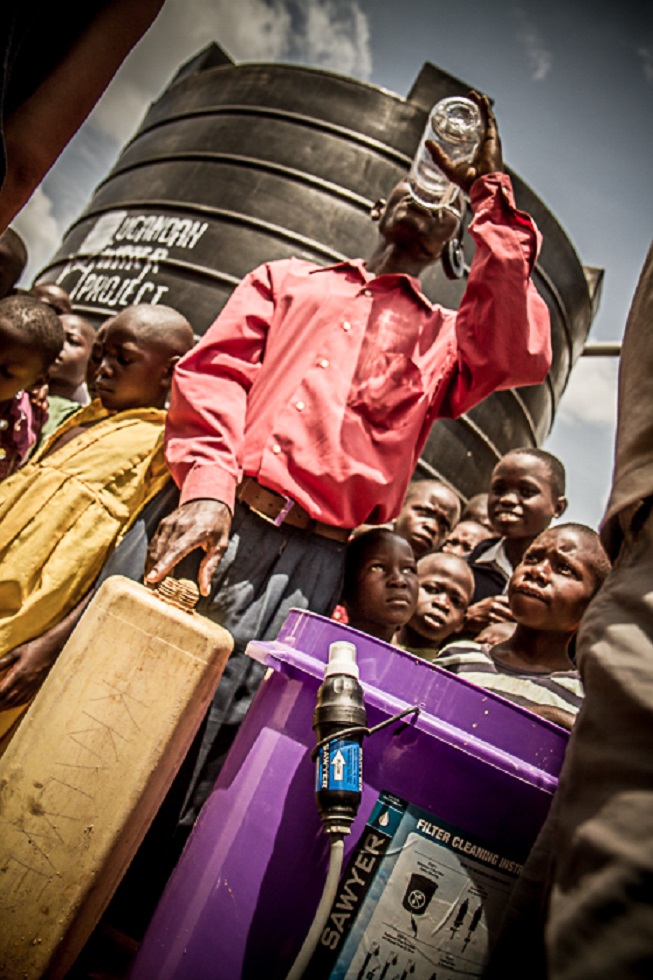 The organization committed 18 months of research and design to their M&E strategy and in May of 2016 launched a cloud-based set of data tools with partner, mWater. Now the organization tracks various indicators and can see proof that clean water in a community increase the number of girls in school; and that clean water at a school increases test scores dramatically. They can also prove that church growth directly correlates with a church bringing clean water to their community.
Theses investments in professional expertise have opened doors for the Ugandan Water Project to partner with other organizations and ministries – sharing with them far more than just the projects they do.
Next Steps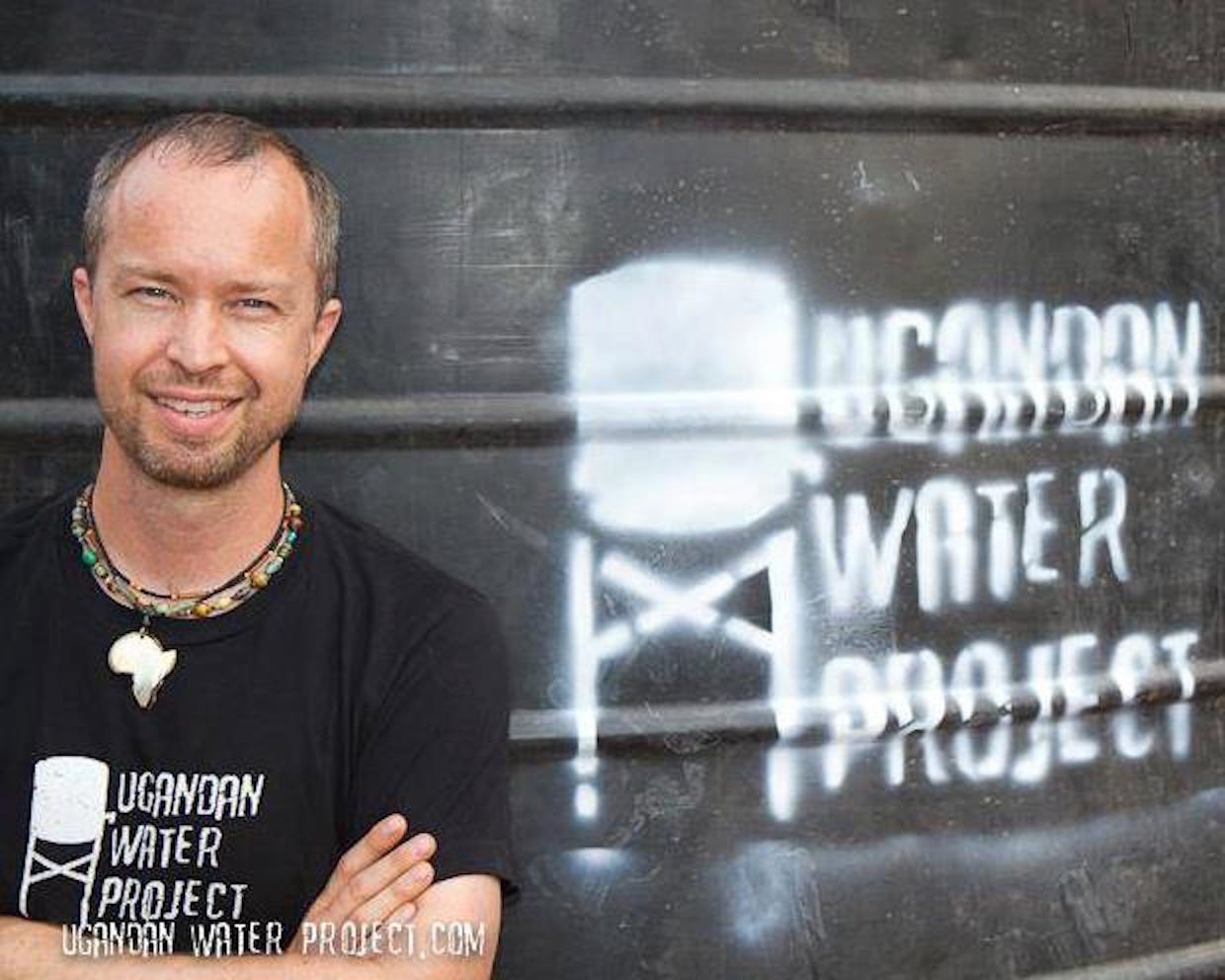 Perhaps you want to see your school or college group involved with the Ugandan Water Project. Maybe you've been looking for a way to engage your business with a charity that is driven by the values of our faith in Christ while still respecting the boundaries of today's workplaces. Or you might be looking for a context to bring your neighbors and friends together for your own barbecue to change the world. If that's the case, UWP would love to explore those ideas with you. There are more than 300 communities on UWP's waiting list for water projects so there are plenty of opportunities!  Contact them today and let them know that you read about them in the Bridge Report.
FROM R.K.'S CORNER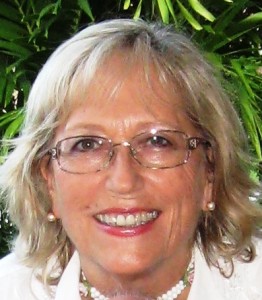 The first time I laid eyes on James Harrington was in 1975. I had just moved to Upstate New York where I had helped establish and administrated a private elementary/junior high school in the Ithaca area. James was then a newborn, son of one of my colleagues at the school. I watched him grow up during his early boyhood. In his mid twenties he married Christy, a businesswoman in her own right, and together, they have raised three beautiful daughters; the oldest is now 18.
Seeking to serve the Lord via a number of entrepreneurial endeavors in the market place, also within the Christian community, James finally found his calling: presenting the Living Water Jesus gave to the woman at the well (John 4:3-15) to the millennial generation by engaging them to help meet the physical need for clean water among the poor in Africa through his Ugandan Water Project!
In this issue, I have asked James to share his vision for building bridges between Uganda and the millennials in the States. This is a project worthy of support!
Mark your donation: Ugandan Water Project.
James' contact information: Tel. +1 585-315-6160
EMail: info@ugandanwaterproject.com